The ride sharing market
The global ride sharing market will grow at CAGR of 18.6% to hit $169.82 - $218 Billion by 2025. The client has presence over 22 countries and hence the importance of the mobile app was huge. The market is dominated by global players and comprises several regional players like- Uber (USA), Lyft (USA), DiDi (China), Grab (Singapore), Gett (Israel), Ola (India), BlaBlaCar (France), Lime (US), and Herts (US).
The ride sharing app
The client is already a renowned name in the ride sharing market and wanted the app to be built on the proven features and almost same styles the web app is running.
The car owner can choose number of passengers he/she want to pool with and add stops in the journey.
Driver can select accept price for the seats, and publish the offer.
The people who are pooling, can select the offer, and after confirmation the journey begins.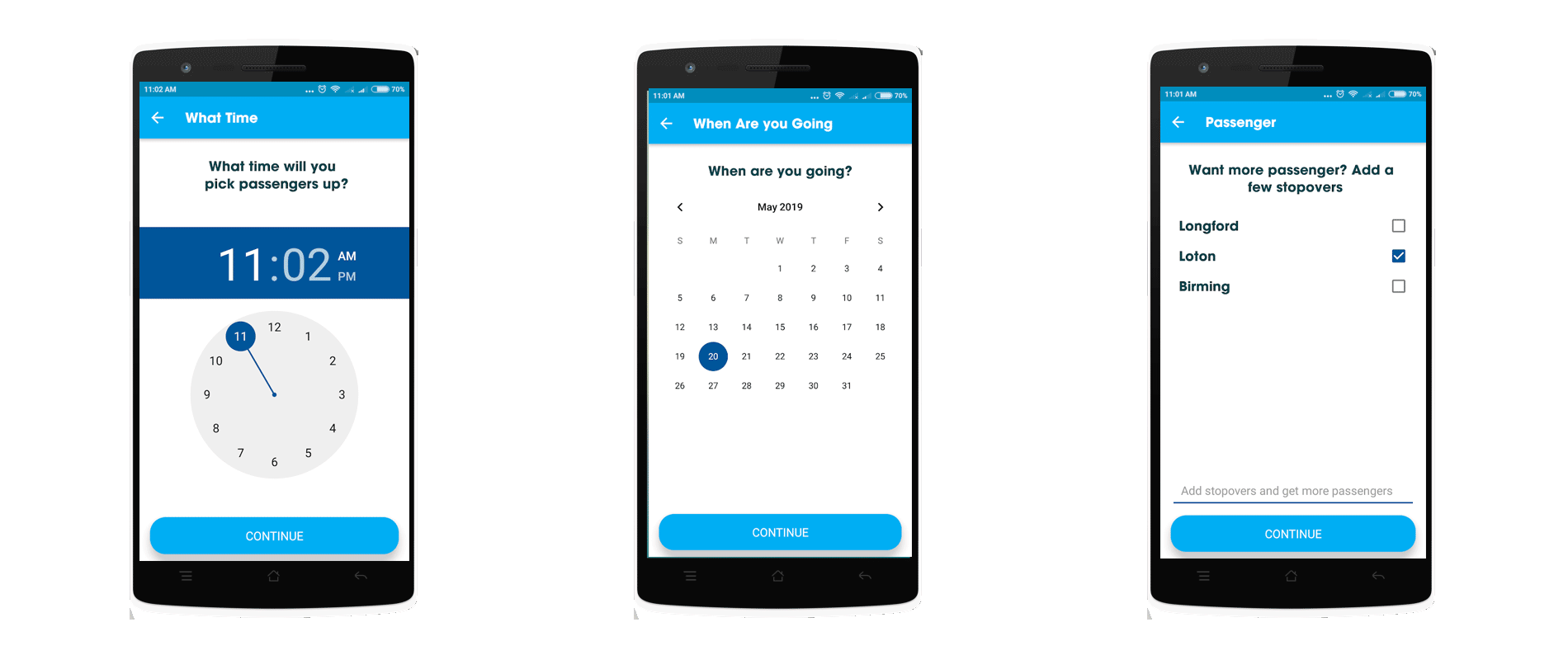 The Journey offer
 The business depends here on driver's offer. The driver need to go through the following steps to create and offer -
Provide starting location.
Provide destination.
Add number of passengers you want to take.
Add number of stops to enhance your chance of getting passenger.
See the amount you can get for each seat/passenger.
Confirm the offer and post it.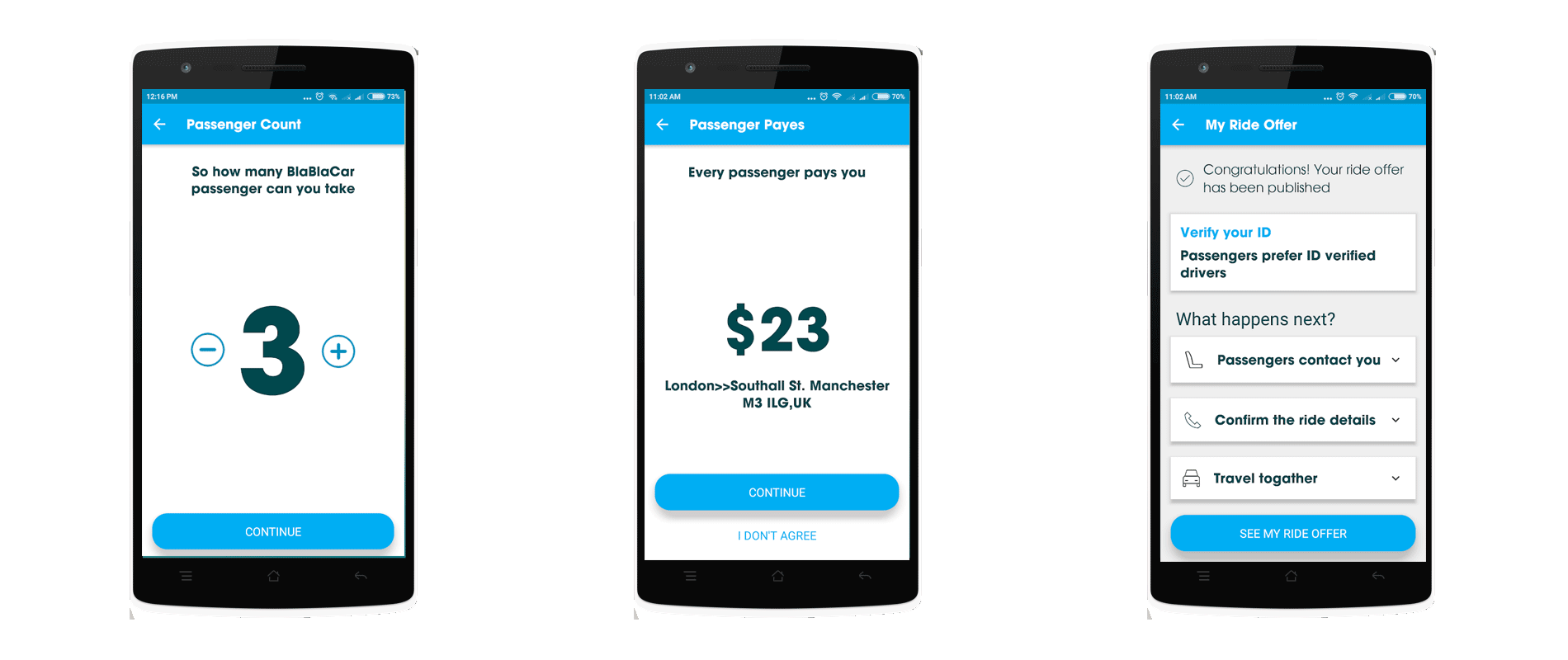 Return journey offering
The drivers can offer a ride back to increase potential of more income. The use case is many of the daily commuters just like their pool mates come home after a certain time from office or place of business. The return journey offering is an unique opportunity to both the driver and the passengers to return at the similar time without booking another ride and ensures the drivers income.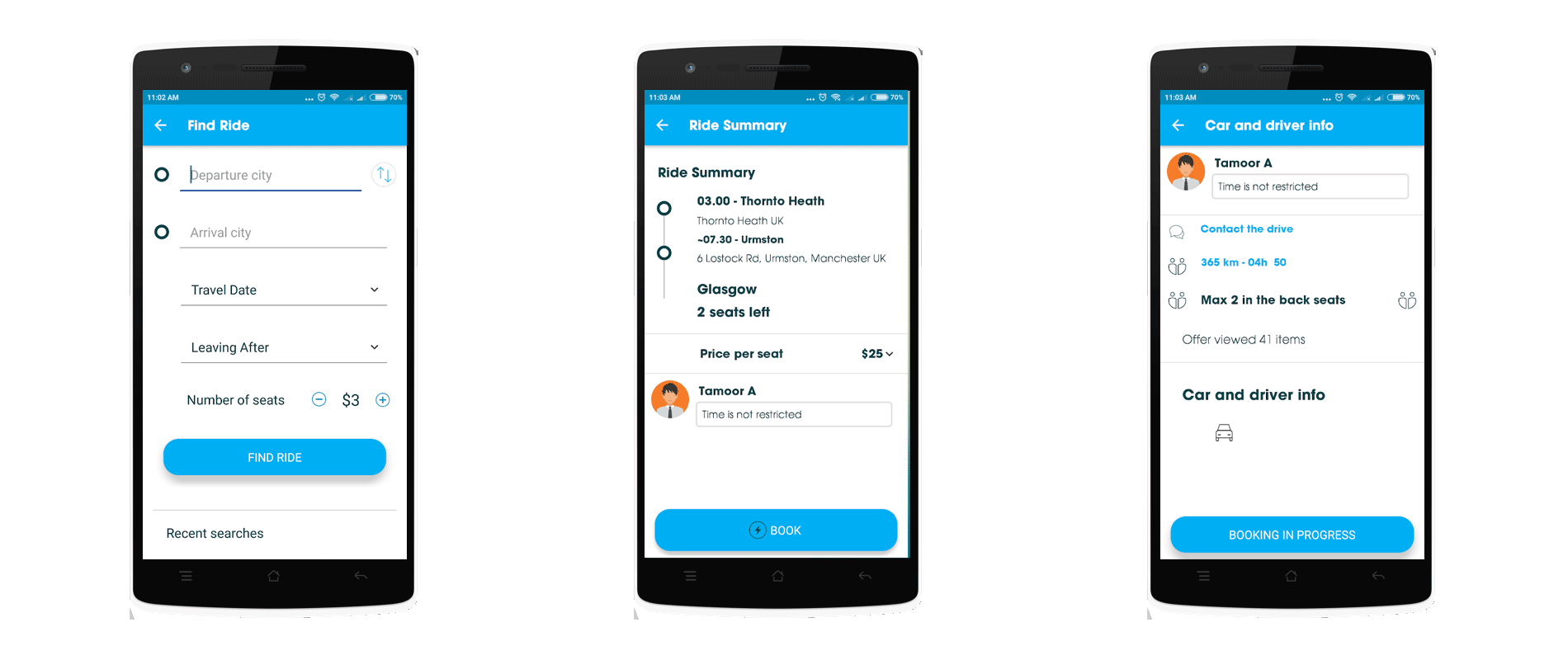 Passenger login
The passengers who would like to journey in a pool car have the options to find a ride mentioning departure city, arrival city, travel date, travel time and number of seats required.
Before booking a ride, the passenger has option to view driver details ( Photo, ID verification) and car details (Make, Model, Car number).
The Passenger can view previous rides and also can filter the rides the booking criteria and ride value.
Compliances and security
The app ensures the minimum safety can be provided and the people who are carpooling know the driver beforehand. Also for all the users the phone number verification has been done via OTP.